This is installment nine of the Blogging in Formation Series, a monthly series where six big-time aviation bloggers put their heads (and blogs) together and post about the same topic, each in their own special way.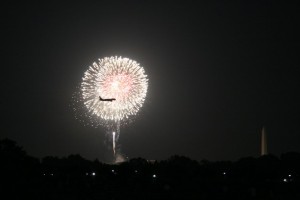 Ah, New Year's.
The time of year to suffer all the prediction posts about what will happen in the upcoming year. If you have been a follower of the Blogging in Formation series for any length of time, you are aware of my disdain for predictions.
So I'm not going to do one.
What I will do is suggest how you might choose your resolution(s) for 2014 – at least as they relate to aviation.
But first, let me give you my aviation resolutions for 2014:
Complete my CFII (by March?)
Blog more regularly (if it weren't for Blogging in Formation, I wouldn't have blogged at all the past few months)
Podcast more consistently
Now they are out there and public! That should be even more motivation for me to follow through on all of them in 2014.
But what about you?
If you are reading this post and following the Blogging in Formation series, you are either a pilot or you would like to be a pilot!
With that in mind, I'd like to suggest 12 aviation resolutions – 1 for each month of the year of 2014.  You certainly don't have to do all of these, but what a fun challenge that might be – to do one of these suggested resolutions each month in 2014 (just print this post and use it as a checklist – you're familiar with checklists, yes?)!  Or simply choose one of these if you are having trouble deciding on your own aviation resolution for 2014:
If you are not a pilot yet – START YOUR TRAINING!Go out to your closest airport and talk to an instructor about starting (or finishing) your flight training. Set a goal to get through solo, or to complete a Sport Pilot Certificate, or Recreational Pilot Certificate, or even go all the way through the Private Pilot Certificate!

If you are already a pilot – GET A NEW RATING!

Start working on that instrument rating, or a Seaplane Rating, or Multi-Engine, or Glider, or Rotorcraft – you get the idea!
Simply set more time aside to fly!Do your best to at least stay current. Get your Flight Review done if you need to, and go get an instructor and practice landings at least once every ninety days! Don't fool yourself into thinking that this makes you proficient, but also take pride in being able to call yourself a "current pilot" – even if that is all you can manage!
The $100 Hamburger FlightThese days it might be a $250 hamburger, but the idea still stands. This resolution is one you could do twelve times throughout the year and still meet the spirit of the post. It might even help you meet resolution 2 if you do it consistently!
Fly a Different TypeIt's quite possible that you flew one type of airplane while getting your certificate – most likely a Cessna 172 Skyhawk. Go out and fly a new kind of plane! If all your training was in a high-wing, go out with an instructor (or another pilot who is familiar with the plane) in a low-wing. Or a glider. Or a helicopter. Or a high-performance/complex something. Get creative! Have fun!
Take someone on their first flightThere is nothing quite like taking someone on their first airplane ride – whether they love it or they vomit on final approach (both of these have happened to me on intro flights) it is an experience that you both will remember! Imagine the impact we could have in getting people interested in aviation if every pilot took up one new-to-flying person per year!
Shoot an instrument approachEven if you don't have an instrument rating, and even if you never plan on getting one, get with an instructor or another current and proficient instrument pilot and go shoot an approach. Breaking out of the grey and haze of the clouds and seeing an airport in front of you is nothing short of magic, and every pilot should experience this from the cockpit at least once in their career, even if the career is a hobby!
Give Back
Join the Civil Air Patrol and fly as a mission pilot on search and rescue missions. Volunteer as a pilot for Air Care Alliance and fly medical patients to badly needed treatments. Or save animals from being euthanized by volunteering for Pilots-N-Paws and flying animals to no-kill shelters or to their new homes. Or choose from many of the other aviation charities out there!

Fly in to a Fly-In Breakfast (or lunch or dinner or Saturday at Sporty's for a free Hot Dog)
Check out Social Flight or Google "Fly-Ins in [your area]" to find an airport that has this kind of activity scheduled and go! This is a great way to use your certificate for something other than flying the pattern or flying circles around your (or your friend's) house.

Fly to an unfamiliar airport
This one can be combined with several of the others, but keeping yourself sharp by planning a flight, navigating to a new place, and finding that new airport that you have never been to before is not only valuable and ego-boosting – it's fun!

Take an actual vacation by airplane
For all the talk of the utility of the airplane, I don't actually know very many people who have taken a plane to go on vacation once they have their pilots license and the ability to do so. So go take a long weekend with the family and fly somewhere you would not be able to go by car – whether that is simply a farther distance or a place that is difficult to get to by car, but not so difficult by airplane (I'm thinking backcountry out West)!

Fly into / out of a grass strip
For some, this may be how they fly every time they go up, but for many pilots doing a soft-field takeoff or landing is a maneuver they have to demonstrate to get their certificate, but they will only ever do it from a concrete strip. Go out and do it for real – with an instructor or an experienced pilot who is familiar with turf operations, of course!

Aerobatics or Upset Recovery Training
Take an aerobatic lesson or several. Complete an Upset Recovery Training course. Or just get an instructor and do some spin training! Any of these things will increase your comfort with the plane, will increase your skills and confidence as a pilot, and will make you safer. Not to mention they are a whole ton of fun!
So there you are! Take any or all of these suggested aviation resolutions and make a commitment to do them in 2014!
And let me add 1 more – read the other Blogging in Formation posts this month! We are trying out a new format: two bloggers a day, completing the series in three days instead of six. So go read Karlene's post today too! Here's this month's schedule:
Jan. 1: Smart Flight Training – Andrew Hartley & Flight to Success – Karlene Petitt
Jan. 2: House of Rapp – Ron Rap & Adventures of Cap'n Aux – Eric Auxier
Jan. 3: iFlyBlog – Brent Owens & Mark L. Berry
---
Andrew Hartley is a certificated flight instructor and commercial pilot in Columbus, Ohio. He hopes his new year's resolution to only say nice things about people isn't misinterpreted as a vow of silence.