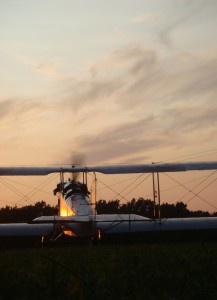 Last month, a pioneering group of formation bloggers launched an ambitious plan to blog monthly about something aviation related, each from their own perspective, for six days straight.  Our first series was about how we got into flying.
The first series was really an experiment to see whether it was something that we enjoyed and was worthwhile to all of our readers.  We decided that both the above were true.  So we made it a monthly series – we all post the first full week of each month on an aviation topic we all agree on.
The agreement part of the process is easier said than done, as there are many ideas of what to write about.  So after a little bit of back-and-forth, we decided that our second series should be about our most memorable flight.
Now, I have to admit, once this was decided, I started to run through my memory banks to try to pick one out, and I realized that with my 450 hours of total time, my inventory is smaller than all the rest of my venerable associates, who have thousands (or tens of thousands) of flight hours.
This is a little intimidating.
But the more I thought about my flying career, the more flights came to mind that are so vivid as to seem as if I am actually experiencing them again when I think about them.
Should I write about my first solo cross-country, or maybe my long solo cross country for my private?
Nah, personal solo memories are far too common.
What about my flight from Bolton Field (KTZR) in Columbus, Ohio to Peachtree-Dekalb (KPDK) in Atlanta, Georgia to go to a friend's 40th birthday party?  Or my commercial checkride, which I passed and then ironically got stuck on my way back home because the weather dropped and I was not instrument current?
Nope. Memorable, certainly. But not "most" memorable.
Finally, I landed (pun intended) on two flights that I recall most vividly – one in which I was piloting, and the other in which I was – interestingly – neither the pilot nor a passenger.  I hope when the rest of the formation bloggers read this that they don't bar me from the group for breaking the rules (I think they'll understand).
My most memorable flight as a pilot happened over a decade ago, while I was in college.  It starts slow, and actually seemed completely normal – just like any other flight – until "it" happened…
A fellow aviation management student (Greg*) and I flew out to Independence, Kansas to pick up a brand new Cessna 172SP from the factory and bring it back to Oakland/Troy Executive Airport (7D2 at the time; now KVLL).  A friend of the owners of the FBO on the field was buying a couple of them to lease back to the FBO as trainers, and the three of us flew out in his Beech Bonanza, stayed the night in a hotel, and flew back the next day.  He flew his bonanza back himself, and Greg and I flew the C172.  I was a recently minted private pilot, and Greg had recently obtained his instrument rating.
We planned the flight from Independence to Springfield, IL for fuel, then home to Troy, MI.  We did a quick acceptance flight around the pattern, signed a few papers, and then took off for Springfield, leaving a little (okay a lot) later than we had planned because we were offered a factory tour that we could not pass up (obviously).
I flew the first leg from Independence to Springfield, and we stayed low (like 500-feet AGL low) for the first hour or two.  Why, you ask?  Because we were college students, relatively new pilots, and we were in the (arguably) flattest area in the country (maybe world).  And did I mention we were college students (meaning we just didn't know any better)?  So, dodging towers and buzzing grazing cows, we made our way to Springfield, were cleared to land 30 miles out (it was a slow day, apparently), and got fuel and a bite to eat.
It was dusk by the time we got back in the plane, and Greg filed an instrument flight plan to Troy, even though it was a beautiful day and was forecast to remain so (and there was absolutely no reason to think that it would change for the worse).  So off we went into the darkening sky, talking to Chicago Center… we were at five or seven-thousand feet.  All was uneventful until the instrument panel lit up – like there was a 747 getting ready to land on top of us!  The top of the panel truly looked like someone was shining a 10 million candle-power spotlight from above us into the cockpit.  Greg and I immediately started looking for traffic above us, and as we scanned (frantically) to find the other aircraft we knew was about to make a perfect landing on our wings, we saw a fireball rip through the sky above us, going the same direction we were.  It looked as if it were only 1000 feet above us, and maybe a mile to our right.  Who knows whether it was actually that close (doubtful), but it sure seemed that way.  We watched it go all the way to the horizon and fizzle out.
We both looked at each other and said "Holy Sh*t!"
Greg later said he was glad I came along (I skipped classes to go and wasn't sure I was going to come until the last minute), because otherwise no one would ever believe that he actually saw what we saw.  I'm not convinced my testimony has ever helped – we know pilots are all crazy anyway, so what should you believe when any of us open our mouths – but we called Center and asked if anyone else had reported seeing anything like it.  They just responded that they were getting a few reports of meteor showers.
That flaming ball of, well, flame is not something I will ever forget.  I have to say that it is my most memorable flight, if only because it honestly seemed like if we had been only slightly higher and a little off course to the right, that meteorite would have had to put a C172 stencil under its canopy, because it would have shot us down.  I know that there is no way it was actually that low or that close, but try seeing it like we did and convince yourself of that at the time.
=-=-=-=-=-=-=-=-=-=-=-=-=-=-=-=-=-=-=-=-=-=-=-=-=-=-=-=-=-=-=-=
Now for the flight that is etched in my memory where I was not the pilot (nor a passenger) – this one is far more recent:
My first solo of a student!  Just a few weekends ago, I soloed my first student. We had been practicing landings for a long time, and for the last two lessons she had been nailing them.  The winds were perfect – light and right down the runway.  I got to watch her solo from the control tower of KOSU airport.
This story (and some of the others above) merits its own post, but suffice it to say that my first first solo student is ALSO a flight I'll never forget.  Even if I wasn't on the plane at all.
*Names changed to protect the innocent – though "Greg" probably wouldn't mind if I used his real name, I am writing this on procrastinator's time and can't confirm this before I post.  Greg, if you read this in the future, please accept my apologies.
Please check out the other five "Formation Bloggers"
Karlene Petitt – Flight to Success – karlenepetitt.blogspot.com
Eric Auxier – The Adventures of Cap'n Aux – capnaux.blogspot.com
Ron Rapp – House of Rapp – www.rapp.org
Dan Pimentel – Airplanista  – av8rdan.com
Brent Owens – Iflyblog – iflyblog.com
---
What is your most memorable flight? Remember it in perpetuity by telling us about it in the comments, and add to the blog formation with your own story!
Andrew Hartley is a certificated flight instructor in Columbus, Ohio. Follow Smart Flight Training on Twitter, Facebook, and Google+!