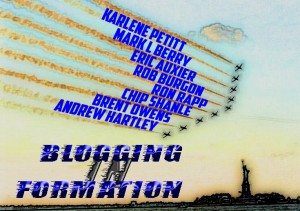 So once again this month I feel at a bit of a disadvantage being the least prolific and least experienced aviator of the esteemed Blogging in Formation bunch, as I have been to significantly fewer destinations at this point in my aviation career.
So bear with me this month as I get a bit ethereal with my post, and give you some places that I have been (whether by airplane or not), as well as some places that I would like to go (by airplane, not not).
My wife and I traveled to Phoenix years ago to visit her grandparents, and while we were there, we drove to Sedona, AZ. Being a pilot, I couldn't pass up the chance to check out the airport while I was there, which is located at the top of a mesa, and the runway extends pretty much to both ends, with a drop off on both sides.
Sedona was beautiful, though a little tourist-y. That said, even though I did not get the opportunity to fly in to Sedona's airport (KSEZ, if you want to look it up), it made a mark in my memory and is a place I definitely want to fly to someday. It feels similar to Ron Rapp's recent Blogging in Formation post regarding Catalina Island, since they both have sharp drops at the end of both sides of the runway, and serve a visually stunning location to their lucky visitors (so add Santa Catalina to my list of must-visit airports… by plane, preferably).
Another airport I told myself I would fly to is Meigs Field, in Chicago. It was literally IN Lake Michigan, and walking distance from the city, which you can see in this image:
When I was a fairly fresh-minted Private Pilot, Meigs Field was under constant attack from the city, who wanted the land the airport sat upon to turn into commercial property (you can see from the picture that condos built on that area of land would have unbelievable views of the lake and the city, and because of that would be worth millions to developers). I followed the nnews about Meigs closely, thinking I better go before they close the airport.
Then, the Friends of Meigs Field and the city & State came to an agreement that would keep the airport open for many more years (24 more to be exact, which would mean the airport would remain open until 2026), and I breathed a sigh of relief and put off my plans to fly in there, thinking I now had more time to do so (and being newly graduated from college and just starting my career, I had little money to spend to fly there anyway).
Most of you can guess where this story goes (as you probably remember the story as well or better than I do). Chicago Mayor Richard Daley illegally bulldozed Meigs' runway. He gave no notice to airport residents, and stranded many aircraft airport (the planes ultimately departed using the taxiway).
So, perhaps my ultimate favorite destination is one that I have never been to, nor can I ever go. At least not by plane. The moral of this story? Don't wait. If you want to fly into a specific airport, GO. You never know whether tomorrow a power-hungry and criminal mayor or governor will destroy your airport (Santa Monica, look out – your current situation sounds a lot like Chicago's all those years ago)!
Now to get really weird on you – my ultimate favorite destination?
Books about aviation. I could read Richard Bach's "A Gift Of Wings" over and over and over and never tire of where he takes me… from a hidden airport in a cave populated by aviation scofflaw bandits, to your run-of-the-mill hangar where a pilot works on his airplane and has a religious discussion with an observer, and everything in-between.
I'm re-reading Bach's book "One" currently, which is not one of his best, but has some great moments in it where he meets versions of himself from different times and dimensions where his past self made different choices than his current self did.
Chuck Yeager's autobiography is a great read.
I read Runway Zero Eight when I was a pre-teen, and probably ought to read it again soon.
I just read The Dog Stars, which is only tangentially aviation-related, but was enough to keep me interested in the rest of the story, too (which is pretty good, by the way, even without the aviation thread).
Give me a book about aviation, and you've made a very happy camper. My wife, on the other hand, will probably no longer like you, because she'll lose me most evenings while I read before bed and tune out pretty much everything else. Something I need to work on.
So those are my favorite aviation destinations – what are yours?
P.S. Don't forget to check out the rest of the Blogging in Formation group's postings this month:
Feb 1: Eric Auxier and Ron Rapp
Day 2 (Feb 2): Mark L. Berry and Brent Owens
Day 3 (Feb 3): Rob Burgon and Andrew Hartley
Day 4 (Feb 4): Karlene Petitt and Chip Shanle