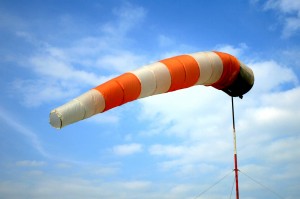 Here's something dumb – "direction-erly" winds.
Have you ever heard someone say the winds are easterly today, and wondered what that meant? I always assumed that easterly winds meant that the winds were going towards the east (like an easterly facing wall, or a boat moving in an easterly direction).
But when it comes to winds, easterly actually means "from the east," – so the winds are actually moving from east to west.
WTF?
I actually discovered this because of an aviation quiz question in a magazine – probably AOPA Pilot or Flying Magazine.
I got the answer wrong, so I googled the term so I would understand it if I heard it or saw it again.  Personally, I think it is dumb.  But the more I thought about it, the more it made sense.
Here's why:
Winds in aviation are always reported using the compass direction they are coming from and then their velocity, in knots.
An example of this is on a METAR:
KCMH 021551Z 33011KT 10SM BKN042 07/M03 A2995 RMK AO2 SLP147 T00671028
In bold, above, this METAR says that winds at Port Columbus airport in Columbus, Ohio, are from 330 degrees (from the northwest) at 11 knots.
Another example of this is when you listen to ATIS or get your departure clearance from the tower – they will almost always give you the current winds in degrees and speed, just like the METAR above does.
In summary, since all other aviation winds are reported as "from" some direction, it makes sense that "westerly" winds would be "from the west."
So, below, I offer a handy "key" to direction-erly winds:
easterly = from the east
westerly = from the west
northerly = from the north
southerly = from the south
You can apply this as well, if you like, for non-cardinal directions – like north-westerly winds in the METAR example above.
Just don't try to tell the tower or your instructor that the winds are 330 degreeserly.
---
Anybody else out there who struggled with this kind of seeming inconsistency? Tell us about it in the comments. Erly.
Andrew Hartley is a Certificated Flight Instructor in Columbus, Ohio.