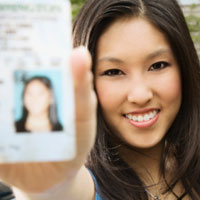 I have a cousin (a cousin-in-law really) who has just gotten his learner's permit for his driver's license, and it got me thinking about the basic requirements to learn to drive and getting your driver's license vs. learning to fly, and getting your Private Pilot Certificate.
Let's take a look, shall we?
In the State of Ohio, to get a driver's license you must have:
6 months under your belt with a learner's permit
24 hours of classroom education
8 hours of driving time with a certified instructor
50 hours of general driving time with a licensed adult

at least 10 hours of nighttime driving
Let's compare these to the requirements to learn to fly (14 CFR Part 61 Subpart E):
Required Time Period: no required period of time as a "learner"

There are actually "accelerated" programs that promise you will have your Private License in as short a period as 10 days!

Required Classroom Time: none, specifically; you will do ground training with an instructor, or on your own (using an at-home course like Sporty's or King or the upcoming Smart Flight Training Academy), or in class, but there is no specific time requirement.

The regulations require that you "receive and log" ground training on certain topics, but there is no time required for the amount of time spent on these areas.

Required supervised flight time: 20 hours

You must log a minimum of 20 hours of flight time with a certificated flight instructor.
You must also log a minimum of 10 hours solo.
You must log a total of 40 hours minimum (solo or with instructor) to be eligible to receive your PPL.

Required Night Time: 3 hours
There are further, more granular requirements that are included within the times above, but in effect, you can see that they have actauly made learning to drive more time consuming than learning to fly (at least in the State of Ohio).