Safety.  Competence.  Confidence.  In that order.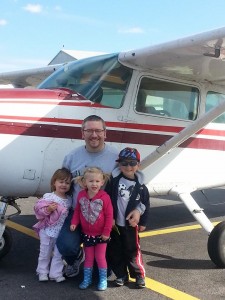 Andrew Hartley is a certificated flight instructor who has been involved in the aviation industry for over 18 years.  He has worked in airline, airport, corporate, fractional, and private aviation operations since 1997, and has never once lost his passion for, or interest in, the aviation industry. Learn more about Andrew by clicking here.
Smart Flight Training was founded on the idea that as technologies change, so must flight training.  Pilot training at even some of the largest facilities and universities in the world is still a game of books, classrooms, and face-to-face teaching.  Certainly learning to physically fly an airplane requires one-on-one time with an instructor, but learning the required knowledge to safely, competently, and confidently apply to your flying does not have to be so – well – let's just say "20th-century."
Today, you can learn on your own time, from wherever you are, online.  You may still choose to carry a physical book with you (I often do), but whether you have a laptop, a tablet, a smartphone, or even simply access to the internet at a cafe or library, nothing should stop you from using what time you have available to continue your learning towards whatever level of pilot you want to become. Whether that be a "hobbiest" or a "professional."
At Smart Flight Training, you'll find the information you need, in bite-sized chunks that can be learned while you are commuting (listen to the podcast if you're driving – read the blog or a lesson from Smart Flight School if you are on the bus or subway) or even waiting in line somewhere.
We also offer a free email newsletter that contains tips to make your flying safer and more fun!  Everyone who flies with you – be they paying passengers or family and friends – puts their trust in you to keep them safe and confortable.  Don't let them down!