Each Tuesday, Smart Flight Training will post a sample question that a pilot could expect to see on an FAA Knowledge Test or hear during the oral portion of a checkride. A little known secret to saving money and time during your flight training is PREPARATION! Hopefully Testing Tuesday post will be one small step in helping you live up to your side of learning to fly by being prepared when you meet with your flight instructor, saving you money and time! Good luck on the below question – click the link at the bottom to see the answer and explanation!
(Refer to Figure 93.) What are the normal lateral limits for Class D airspace?

3 miles.
4 miles.
5 miles.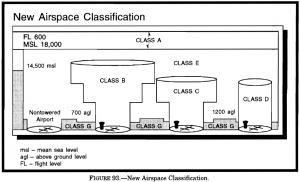 Click here to display the answer…
---
Andrew Hartley is a certificated flight instructor and commercial pilot in Columbus, Ohio. His short term memory is terrible. And so is his short term memory.